Moisture

Meter LM08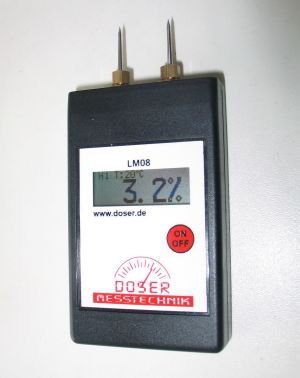 list price: 419 EUR (in Germany additional 19% tax)
not valid for all countries, additional packing and shipping, based on our Terms and Conditions of Trade.
Wood type and wood temperature can be adjusted.
The instrument LM08 works with the conductance measuring principle. Between the electrodes the conductivity is measured. A micro controller then determines the moisture content, taking in the set wood group and temperature into account.
The instrument will be delivered with sharp electrodes Ø2 x 20mm.
Technical Data:

| measuring range: | 5 - 40 % wood moisture |
| --- | --- |
| resolution: | 0,1% |
| accuracy: | ± 1% (resistance measuring |
| dimmension: | approx.110 x 62 x 21 mm (without sensors) |
| weight: | approx. 150 g |
| battery: | standard alkaline 9V block battery |
Optional electrodes:

| | |
| --- | --- |
| SP30: | Ø2 x 30 (standard electrodes) |
| SP50I: | Ø2 x 50, isolated |
| SP200: | Ø3 x 200 250, e.g. for testing moisture in drilled holes |
| F6x200: | flat electrodes 0,5 x 6 x 200 mm, made with spring steel |
| LM-TB: | Testblock with test resistances for testing and calibration |
Optional Testblock:

Testblock with test resistances for testing and calibration
DOWNLOADS:
request and order: info(at)doser(dot)de