Universal Moisture Meter AD4A-CA
list price: 888 EUR (in Germany additional 19% tax)
not valid for all countries, additional packing and shipping, based on our Terms and Conditions of Trade.

Especially for mobile homes, trailers and caravans with shorter sensors for better measurements in tight areas.
non-destructive, only lay on and read of the moisture value!
quick analogue bargraph display ( 100 measurements per second)
therefore good for detection of moisture differences
additional digital display
big display
simple material selection with turning knob
automatic zero point correction
During measurements a material text is shown. For each meter material curves, sorted in groups, can be composed individually.
Fixed linearisation curves for a lot of common materials are already stored and can be selected.
USB interface: w
ith the optional Windows based software AD4A-S measured values can be transferred and stored on the mass storage of the PC.
Technical Data:
measuring range:
0 - 100%, adjustable
measuring depth:
approx. 4 cm
damping:
0 - 99% adjustable
storage:
1000 measuring values
dimmension:
approx. 160 x 80 x 40 mm
batteries:
mignon alkaline batteries (AA), 2 pieces
Optionale external sensors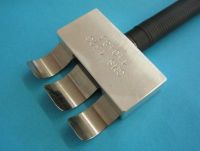 External Holow Sensor CMS-1520
More information:
CGF Caravaning Gutachter Akademie Gbr
Sensor with bendable extension pipes approx. 2 x 300mm
The AD4A-CA is recognizing the CMS1520 and shows the sensor values automatically.
Climate Sensors
are available.
DOWNLOAD:
request and order: info(at)doser(dot)de